The Peacemaking Committee meets monthly to plan and discuss issues related to growing as peacemakers. This growth occurs on many different levels- as individuals, as a congregation, and as a part of larger community. We seek to take up the challenge of Matthew 5:9: "Blessed are the peacemakers, for they will be called children of God".
Easter Prayer Vigil
As part of Holy week activities, we pray through the night starting at 8pm on Maundy Thursday through 6am Good Friday morning.  Participants sign up for 30 or 60 minutes of prayer time.  Each year there is a different prayer theme.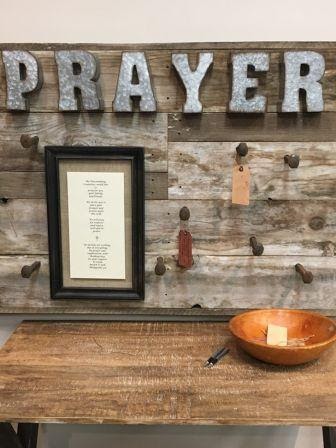 Peace and Global Witness Offering
The Peacemaking Committee supports and interprets the Peace and Global Witness Offering that the Presbyterian Church collects each October in coordination with World Wide Communion.  25% of this offering is used locally to support a Shawnee County peace and justice ministry.
Care Portal
Care Portal CarePortal brings the needs of foster children and families in Topeka to your attention. Child Welfare workers uncover the needs of the foster family. CarePortal makes local Churches, like Trinity, aware and gives them a real-time opportunity to meet the need.  If you join Trinity's CarePortal team, you can help meet the need of a foster family in Topeka.  This need might be a decent bed or mattress for a foster child or it might be help with a rent payment to keep the family secure.  As part of the response, you'll be expected to deliver the item(s) you donate to the person in need.  CarePortal is about developing relationships with foster families in Topeka.  To sign up, email Anton Ahrens or call 785-232-2060.
Topeka Center for Peace and Justice
Through the Peacemaking Committee, Trinity provides financial support and works with the Topeka Center for Peace and Justice whose mission is to promote justice and peace through education and action for social change. Some of the ongoing projects of the Topeka Center for Peace and Justice include Juvenile Victim Offender Mediation, an initiative to educate and stop human trafficking, annual Peace Camp for elementary students, Restorative Justice Circles in middle schools, and Whose Dream Is It?" dinner held on Martin Luther King Day.  More Information
Topeka JUMP (Justice Unity & Ministry Project)
Topeka JUMP is an ecumenical coalition of 20 churches in Shawnee County and is an affiliate of DART (Direct Action and Research Center). Trinity has been a member of Topeka Jump since it started in May 2012. JUMP was founded on the words of the prophet Micah and the actions of the prophet Nehemiah. God requires us to seek justice and Topeka JUMP is the vehicle for which Trinity and other churches in Shawnee County work to live out God's requirement of us.
By building the power of organized people, Topeka JUMP works to make systemic impacts to address the root causes of injustices in Shawnee County. Visit the 
JUMP website.